LCMF 2022
19 June: Hysterical and Happy

Fireworks Factory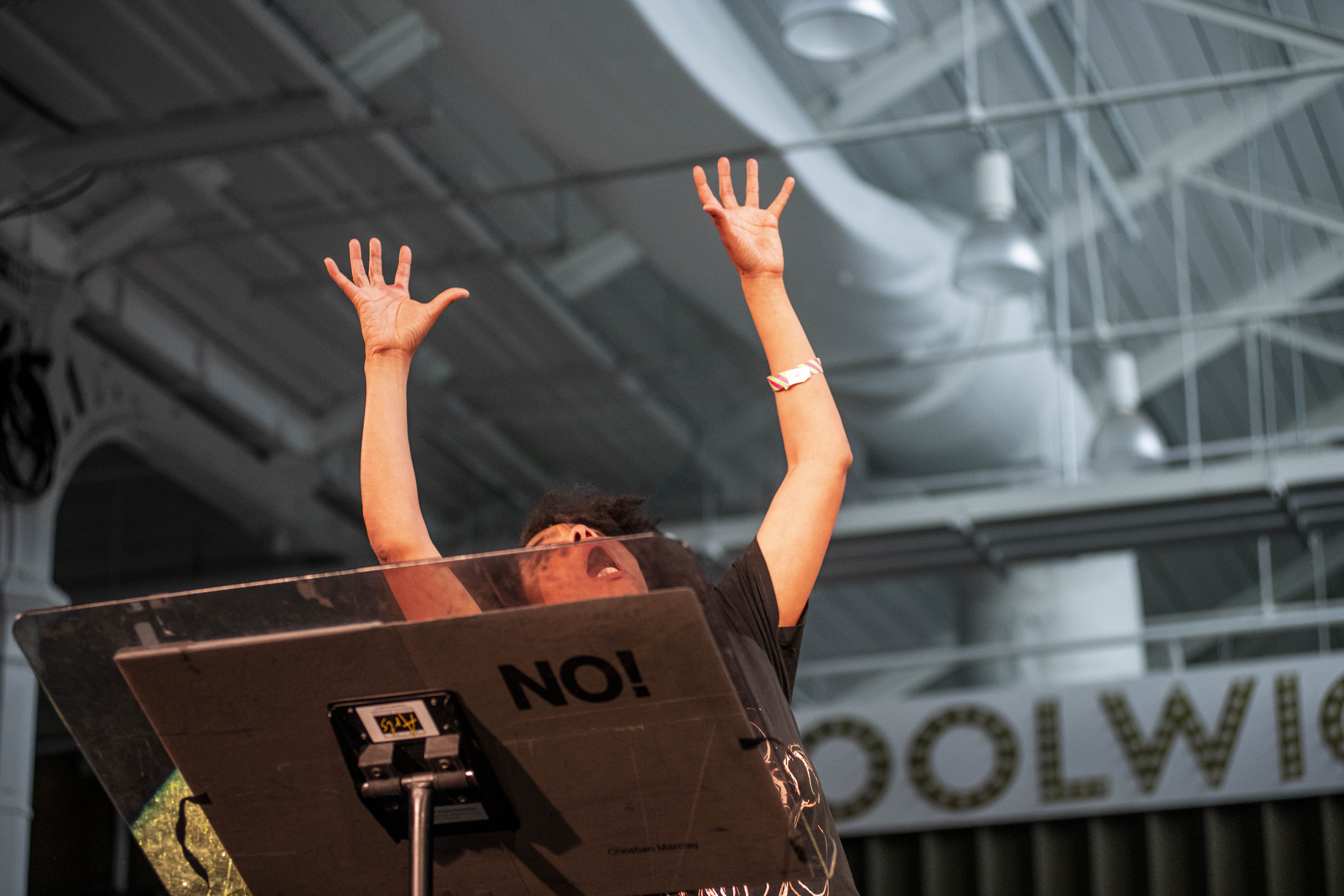 Elaine Mitchener performs the European premiere of Christian Marclay's No! at LCMF 2022. Image: Dawid Laskowski

Christian Marclay
No! (2020)
(European premiere)

Claudia Molitor
Polymer Hauntings (2022)
(world premiere)(LCMF commission)

Joëlle Léandre
Solo improvisation

Thomas Wiggins
Battle of Manassas (1861) and The Rainstorm (1865)
(first performances in Britain since 1866-7)

Musarc
Sippy-cup without juice and When I tried faking being sick, I saw I faked being well
(Gaelic psalm-singing)

Aura Satz & Sarah Davachi
The Grief Interval (2021)

Ewa Justka
Live

Tom Foulsham
B♭ Arrangement for 3 Musicians and 1300 Meters (2019)

Performers:
Ewa Justka
Elaine Mitchener voice (Marclay)
Joëlle Léandre double bass
Katherine Tinker piano (Molitor)
Musarc (Gaelic psalm-singing)
Pat Thomas piano (Wiggins)
Tom Foulsham:
Christopher Vickers (trumpet), Dylan Kirk (trumpet), Michael Tasker (trombone), Ben Palmer Fry (skipper), Chris Raymon (skipper), Ryan McLoughlin (skipper)
Yshani Perinpanayagam piano (Molitor)



'Feelings are never true. They play with their mirrors'
– Jean Baudrillard, Cool Memories
Settle in for the cathartic final night of LCMF 2022, where we float around, eyes wide, smiles broad, fires roaring: vocal and visual fire courtesy of acclaimed improviser
Elaine Mitchener
, who will present the UK premiere of an explosive new exploration of comic strips by renowned artist
Christian Marclay
; electronic fire courtesy of the raw, pulverising, gabber-tinged techno of Polish producer and instrument builder
Ewa Justka
; and the Stygian licks of the double bass of legendary improviser
Joëlle Léandre
, founding member of Les Diaboliques and the European Women's Improvising Group
Celebrated improviser
Pat Thomas
will perform two works by neglected 19th-century African-American composer
Thomas Wiggins
:
The Rainstorm
(1865), originally composed when Wiggins was five years old, and the extraordinary, cataclysmic
Battle of Manassas
(1861), which prefigures several 20th-century avant-garde piano techniques by at least half a century. These are the first public performances of these works in Britain since he toured here in 1866-7.
Elsewhere we return briefly to lockdown poetics in
Aura Satz
and
Sarah Davachi
's film
The Grief Interval
, in which organs haunt a decommissioned power station, then fill the hall with the hallucinatory, transcendental clouds of sound of
Gaelic psalm-singing
, which will be brought to life by experimental choral collective
Musarc
.
In
Claudia Molitor
's new requiem
Polymer Hauntings
– which aims to be unperformable in the near future – single-use plastics possibly find fulfilment (and a second use) as found instruments for sounding. Any aspiring single-use plastics are encouraged to offer their services.
And we end with a visit to the Thames shore, where we'll watch
Tom Foulsham
's
B♭ Minor Arrangement for 3 Musicians and 1300 Meters
sail away across the river on three small dinghies.