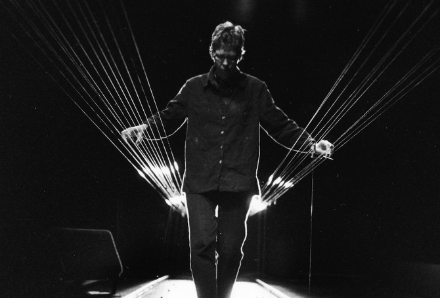 Emahoy Tsegué-Maryam Guèbrou Selected piano works*
Bryn Harrison Repetitions in Extended Time (2008)
Tim Etchells / Aisha Orazbayeva Seeping Through (2015)
Ellen Fullman The Watch Reprise (2015) (world premiere)
Stephen O'Malley Live set

Performers
Plus Minus Ensemble:
Vicky Wright (clarinet), Anders Førisdal (guitar), Marcus Barcham-Stevens (violin), Alice Purtan (cello), Roderick Chadwick (piano), Gwen Rouger and Matthew Shlomowitz (organs)
Tim Etchells
Ellen Fullman
Mark Knoop conductor (Harrison)
Dan Nicholls piano (Guebrou)
Stephen O'Malley
Aisha Orazbayeva violin

Time is stretched, bent and finally dissolved in Five Ways To Kill Time. Sound artist Ellen Fullman opens the night with a UK premiere of The Watch Reprise, which will be performed on her 50-foot Long String instrument that one writer compared 'to standing inside a giant grand piano'.




Following this, there will be a selection of intimate piano miniatures by Ethiopian composer, pianist and nun Emahoy Tsegué-Maryam Guèbrou, pieces that seem to drift through space. Plus Minus Ensemble, meanwhile, offers up the intricate and disorientating world of Bryn Harrison's Repetitions in Extended Time.

Mixing spoken text and music, theatre maker Tim Etchells (Forced Entertainment) and violinist Aisha Orazbayeva offer a set of fragmentary improvisations in Seeping Through, a work fresh from a critically acclaimed run at the Edinburgh Fringe.




We end with a time-obliterating live set from doom pioneer Stephen O'Malley, whose work within and beyond his seminal group Sunn O))) exists in a kind of transcendent stasis.

* Presented with the kind permission of the Emahoy Tsegué-Maryam Guèbrou Foundation. The mission of the Foundation is to make a difference in a child's life through music education. It partners and collaborates with people and organizations to empower communities and nurture children in lower income brackets. The Foundation's vision is to use music and change lives by supporting one child at a time.

Images
1 Ellen Fullman
2 Emahoy Tsegué-Maryam Guèbrou
3 Stephen O'Malley